Hello, I'm Papazon. (@nomadkazoku)

We have set a goal of moving to Malaysia by the end of 2020, but due to corona's influence, the clouds for Malaysia migration are in doubt these days.
From the tax accountant of the advisor,
If you're going to emigrate, you'd better check malaysia's taxes too!
I would like to compare Malaysia's taxes with Japanese taxes.
I compared Malaysia's taxes with Japan.
For the time being, based on the annual income of 5 million yen, in two patterns of salaried man or sole proprietor, examined the tax required for the following setting, I tried to compare the take-home income.
Annual income – 5 million yen (200,000 RM)
Age – 40 year old
Spouse – Yes (no dependent)
Dependent relatives – 2 people (under 16 years old)

– Individual Proprietors
Blue return – Yes
National Pension – Yes
National Health Insurance – 3 people
(in the case of Setagaya-ku insurance premiums)
※1RM (ringgit) = 25 yen
In the calculation of taxes in Japan, I was allowed to refer to "tax and social security education".
In the case of a salaried worker


Japan
Malaysia (Work Visa)
Income tax
135,300 yen
(232.8 million yen x 10%
– 9.75 million yen)
794,500 yen*
Inhabitant
242,800 yen
(237.8 million yen x 10%
– 5,000 yen)
Free
Health insurance
286,098 yen
(monthly income: 410,000 yen x 18.3%)
Free
Employees' pension
450,180 yen
(monthly income: 410,000 yen x 11.63%)
550,000 yen
(5 million yen x 11%)
Take-home income
3,870,622 yen
3,655,500 yen
In the case of a salaried worker (work visa) with an annual income of 5 million yen, the income tax part seems to be higher than in Japan because it becomes treated as a high income person enough in Malaysia.
* Malaysia income tax cal
culation method Basic dedu
ction: -9,000RM dependent deduction: -4
,000RM (2 children x 2) Tax
able income: 187,000RM Total tax rates up to 100,000RM taxable
income = 10 900RM Taxable income from 100,000RM to 187,000 tax rate (24%) = 20,88
0RM Total tax amount: 10,900RM +20,880RM = There are many other tax deduction

items in Malaysia, including 31,780RM 794,500 yen.For more information, pleas
e refer to the following URL Tax Relief for ResidentIdentity
In the case of a sole proprietor


Japan
Malaysia (MM2H Visa)
Income tax
217,300 yen
(314.8 million yen x 10%)
None
(in the case of income
from overseas)
Inhabitant
324.8 million yen
(319.8 million yen x 10%
+ 5,000 yen)
Free
National Health Insurance
624,450 yen (*n
o calculation)
Free
National Pension
196,920 yen
(16,410 yen x 12 months)
Optional (50RM~)
Take-home income
3,636,530 yen
5,000,000 yen
In the case of sole proprietors (MM2H visas) with an annual income of 5 million yen, working in Malaysia (business to increase ringgit-denominated sales) is prohibited, but income tax does not occur for income from overseas sources.

Pensions can be reserved arbitrarily、、、but even if you intend to live in Malaysia for the rest of your life, you don't have to join here.

At the moment, there is no resident tax or health insurance system, so there are no taxes that need to be paid.
Income tax comparison [Japan v.s. Malaysia]
The table of the income tax rate of Japan is converted into mutual currency and summarized in the table.
Income tax rate in Japan


Taxable
income (yearly)
Taxable
income (annual/RM)
Tax rate
Deduction (yen)
Tax
amount (yen)
Tax amount
(RM)
¥1,950,000
35,455
5%
¥0
¥97,500
3,900
¥3,300,000
60,000
10%
¥97,500
¥232,500
9,300
¥6,950,000
126,364
20%
¥427,500
¥962,500
38,500
¥9,000,000
163,636
23%
¥636,000
¥1,434,000
57,360
¥18,000,000
327,273
33%
¥1,536,000
¥4,404,000
176,160
¥40,000,000
727,273
40%
¥2,796,000
¥13,204,000
528,160
¥40,010,000
727,455
45%
¥4,796,000
–
–
Income tax rate in Malaysia 2020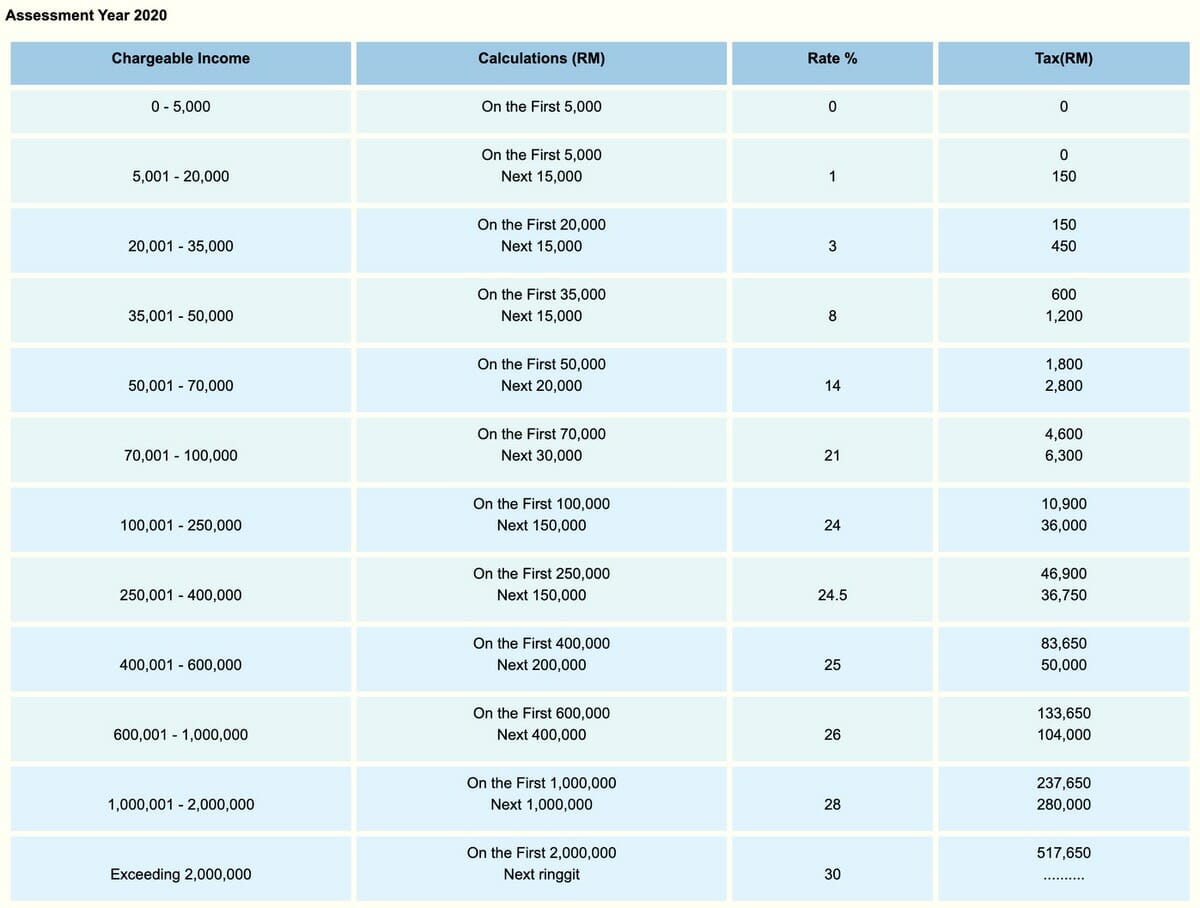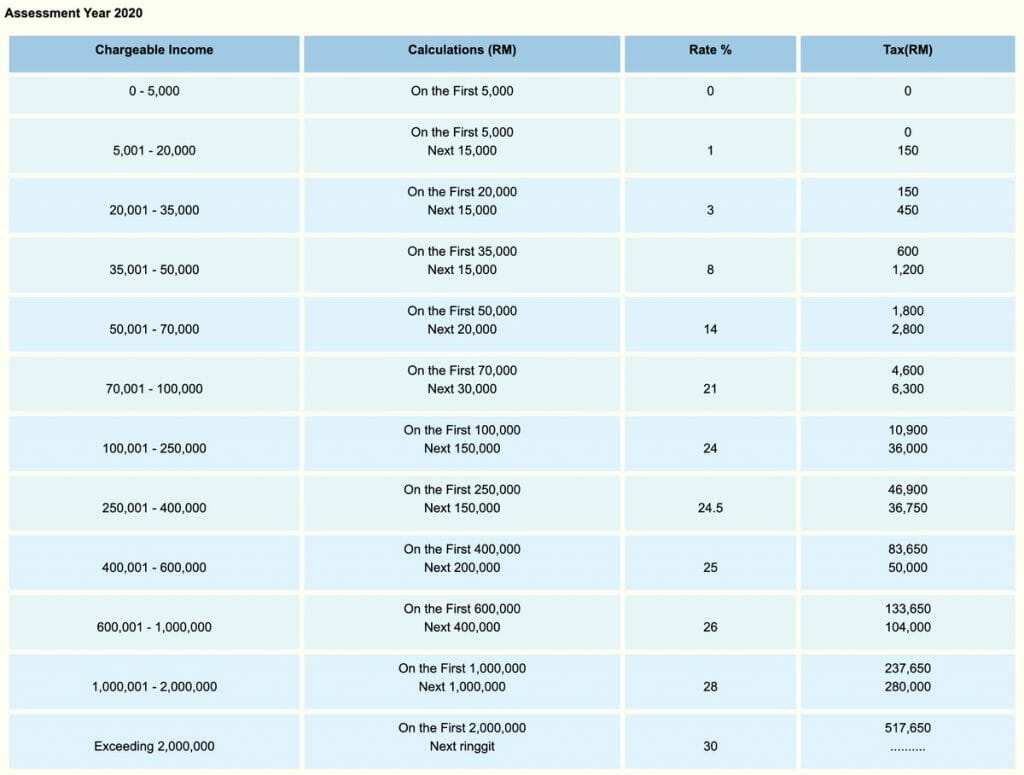 Taxable
income (yearly)
Taxable
income (annual/RM)
Tax
rate
Deduction (RM)
Tax (RM)
Tax amount (yen)
125,000 yen
5,000
0%
0
¥0
¥500,000
20,000
1%
5,000
150
¥3,750
¥875,000
35,000
3%
20,000
600
¥ 15000
¥1,250,000
50,000
8%
35,000
1,800
¥45,000
¥1,750,000
70,000
14%
50,000
4,600
¥115,000
¥2,500,000
100,000
21%
70,000
10,900
¥272,500
¥6,250,000
250,000
24%
100,000
46,900
¥1,172,500
¥10,000,000
400,000
25%
250,000
83,650
¥2,091,250
¥15,000,000
600,000
25%
400,000
133,650
¥3,341,250
¥25,000,000
1,000,000
26%
600,000
237,650
¥5,941,250
¥50,000,000
2,000,000
28%
1,000,000
517,650
¥12,941,250
¥50,250,000
2,010,000
30%
2,000,000
–
–
Income tax for non-residents (less than 182 days/year)
In Malaysia, the income tax rate for non-residents is subject to the highest tax rate.
As of 2020, 30% of income will be levied on non-residents.

However, since employment of less than 60 days is exempt, I think it is a rare case to go back and forth between Japan and Malaysia.
Lembaga Hasil Dalam Negeri
Inhabitant tax in Malaysia
The main reason why there is no resident tax in Malaysia is that it is a resource exporter that produces rare oil and natural gas in Asia.Since the national budget is covered by tax revenues from the Petroleum Corporation, it is possible to reduce the tax revenue from companies and citizens.

Therefore, it is inevitable that a sharp fall in oil prices at the end of March 2020 will cause significant damage.If the long-term decline in crude oil prices continues, there is a good chance that a tax on resident tax will be added in the future.
Health Care System in Malaysia (Health Insurance)
Since there is no public health insurance system in Malaysia, there is no direct collection fee from the public, but medical services at public medical institutions are spent from the government budget, so even foreigners can receive medical examinations at a small expense.

However, because the cost is low, public medical institutions are always crowded, and because there is anxiety in terms of language, foreigners often use private medical institutions.

In that case, you will need to get private health insurance, and you will need additional insurance premiums.
Summary
I investigated the "Malaysian tax (take-home income)" above.

The income tax rate in Malaysia seems to change every year, so I would like to check it continuously and update it to the latest information.