I am Papazon (@nomadkazoku) In preparation for moving to Malaysia.

I am in charge of asset management of family, who repeatedly sends money overseas every month.

I was shocked by the fact that Japanese banks and securities accounts were "almost frozen" when I moved abroad, so I created an American account that allowed me to hold assets regardless of where I lived.
Although it was good to have made an account, I thought that "the fee of overseas remittance seems to be high", and when I investigated it, I found a service with a good reputation.

Its name is "TransferWise"
Mr. Manab, a blogger with annual sales of 100 million yen, also recommends it😁
The number of young people who move abroad is likely to increase in the future, but overseas remittances ar
e intensely troublesome😌 if the amount is about one million, Rakuten Bank or Transferwise is convenient.However, if it exceeds 10 million, it is necessary to go to the bank window, and the arrangement of documents is also essential.I hope that Bitcoin will become popular soon.The money transfer fee has cut down on my savings.

— Manab@Bangkok (@manabubannai) September 27, 2019
Most Recommended Money Transfer Method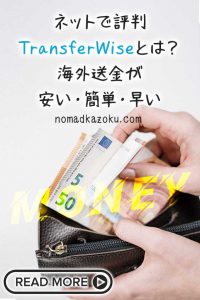 The reason why Transferwise is recommended is explained quickly with up to 140 characters per paragraph according to the following:
What is TransferWise?Why is it cheap?
The secret of cheapness is not to send money overseas.

(User) Japan Account → Japan Account (TransferWise)
(User) U.S. Account ← U.S. Account(TransferWise)

The cost of remittance across the sea is reduced by "domestic remittance" in two countries, TransferWise remittance country and receiving country.

For a detailed explanation, please see the official video.
Surprisingly important "speed & ease"
If you are sending money overseas at a bank
go to the window
Submit necessary documents
Fill out the request form
Complicated analog work such as a lot of work.

With Transfer Wise, once you have completed the procedure on the app or the web, you can easily send overseas money just by smartphone operation.

In addition, the time required to send money is as speedy as a few hours to two business days.
Cospa verification!If you send 500,000 yen
If you actually send 500,000 yen to your U.S. account, the amount you will receive is as follows.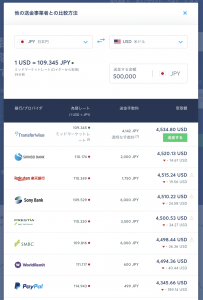 The transferwise fee is 4,142 yen, which seems to be the sixth high, but due to favorable exchange rates, the final receipt amount is maximized.
Even more deals with tricks tool!
TransferWise's convenient tool "Exchange Rate Alert" function.
Once a day, you will be notified by e-mail of the specified exchange rate.
Notify me by e-mail that the exchange rate exceeds the specified number
If you do not need to rush the remittance, you can use the notification (2) to wait for the desired exchange rate and make an overseas money transfer at a reasonable price.
Disadvantages of TransferWise
TransferWise's remittance limit is 1 million yen.

If you send money of more than 1 million yen,
it is necessary to divide it into multiple times, and the fee will also be more expensive.

If you want to make a high-value money transfer, separately, by combining the foreign currency remittance account and Forex account, it is likely to be advantageous to build a remittance system.

However, in order to make a high remittance profit, it seems that a reasonable condition is also necessary.
Example) Deposits of 10 million yen or more, etc.
Summary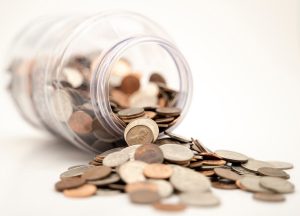 High remittance is the weak point transferwise, but in my case, because there is a purpose of exchange fluctuation risk diversification, I plan to transfer a small amount by distributing it for a period of time.

Depending on each purpose, for overseas remittance beginners, "cheap, easy, early" transferwise is definitely recommended!

You can also simulate overseas remittances, so please try it once!
This quote feature is wonderful!
Related|How to open a TransferWise account
I explained the specific account opening method of TransferWise with an image.
Related|Summary of Overseas Remittance Fees (Rates) of TransferWise's 16 Major Currencies
I summarized the specific currency fee (rate) of Transferwise.